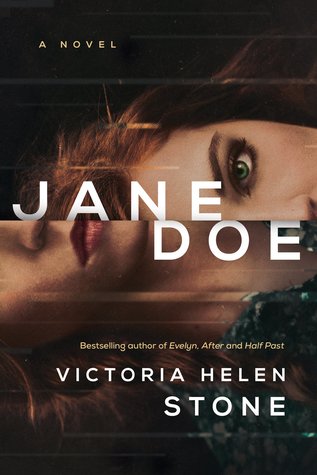 Jane Doe by Victoria Helen Stone
Series: N/A
Genres: Fiction, Thriller
Publication: August 1st 2018 by Lake Union Publishing
Length: 267 pages
Format: E-Book
Source: Purchase
Synopsis: Jane's days at a Midwest insurance company are perfectly ordinary. She blends in well, unremarkably pretty in her floral-print dresses and extra efficient at her low-level job. She's just the kind of woman middle manager Steven Hepsworth likes—meek, insecure, and willing to defer to a man. No one has any idea who Jane really is. Least of all Steven.
But plain Jane is hiding something. And Steven's bringing out the worst in her.
Nothing can distract Jane from going straight for his heart: allowing herself to be seduced into Steven's bed, to insinuate herself into his career and his family, and to expose all his dirty secrets. It's time for Jane to dig out everything that matters to Steven. So she can take it all away.
Just as he did to her.
Review: Jane Doe is such a nice read. This is really a weird thing to say about a thriller, but that's how I feel about it!
Jane is living a temporary life, like a little scenario, and she has a goal. I have to say, I didn't really think it was a thriller, it felt more like an account of what some people would be doing in her situation. Jane is very calculated. She takes a situation and makes the most of it – not in terms of happiness, but in terms of results.
Maybe I found this book so interesting because it really shows what men can be like and how women see them. There are several characters described in this book and while Jane is the protagonist and Steven is in the spotlight, we get to know others as well.
The best quote that I found in the book described a man other than Steven that we get to know as well. It poses such a contrast to Steven and I think it really describes things pretty well:
"He understands women in that very simple way so many men never grasp. He knows we are raised in danger. He views our respect as a gift."
I don't usually think that revenge is the way to go, but in Jane's case, it somehow feels justified. When I look at how the story unravelled, I think in the end, Steven got exactly what he deserved. And it wasn't half as wicked as I expected it to be.
Something that Jane Doe puts under a microscope is the fact that certain ways of hurting others are so common and so easy. The victims don't always realise they are hurt emotionally and there are societies that turn a blind eye to those situations. While Jane's actions might not be exactly moral, what she is up against isn't as well.
Rating: 5  /  5
[Review] Paula Hawkins – Into the water