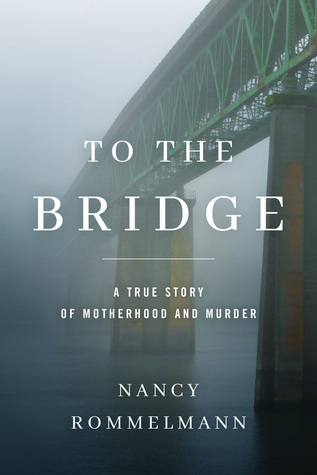 To the Bridge: A True Story of Motherhood and Murder by Nancy Rommelmann
Series: N/A
Genres: Nonfiction, True Crime
Publication: July 1st 2018 by Little A
Length: 303 pages
Format: E-Book
Source: Purchase
Synopsis: The case was closed, but for journalist Nancy Rommelmann, the mystery remained: What made a mother want to murder her own children?
On May 23, 2009, Amanda Stott-Smith drove to the middle of the Sellwood Bridge in Portland, Oregon, and dropped her two children into the Willamette River. Forty minutes later, rescuers found the body of four-year-old Eldon. Miraculously, his seven-year-old sister, Trinity, was saved. As the public cried out for blood, Amanda was arrested, convicted, and sentenced to thirty-five years in prison.
Embarking on a seven-year quest for the truth, Rommelmann traced the roots of Amanda's fury and desperation through thousands of pages of records, withheld documents, meetings with lawyers and convicts, and interviews with friends and family who felt shocked, confused, and emotionally swindled by a woman whose entire life was now defined by an unspeakable crime. At the heart of that crime: a tempestuous marriage, a family on the fast track to self-destruction, and a myriad of secrets and lies as dark and turbulent as the Willamette River.
Review: I find myself reading some grim stories recently.
To the bridge was my choice from Amazon new releases. I'm not sure why I went for it – I seem to be into those books recently. I think I primarily wanted to read To The Bridge to understand.
The book provides some statistics. 500 children are killed by their parents each year in the USA. I kept asking myself why.
While for most of us murdering someone we love is unspeakable, it does happen. Nancy goes into detail about what type of person Amanda was and what circumstances led her to the bridge.
We get to know Amanda's family – what her husband was like, what her family values were. There is no doubt in my mind that Amanda is guilty of murder, let me assure you. I feel that this book leads us to step by step to what state of mind Amanda might have been in.
One powerful message that this story gave me was just how easy it is to become someone that does the unspeakable by making poor everyday choices. Amanda was in a very poor mental state when she attempted to kill her children. While this situation partially evolved from abuse, some of the thoughts that she had and ways how she chose to act were down to her choosing to go down a certain path.
Being a victim of abuse is never easy and shouldn't happen. But it does. My strong belief is that people need to stand up for themselves and, more importantly, ask for help. And if you have a friend in an abusive relationship? Be the good friend and don't leave them. Don't stop being friends with them just because you are tired.
Rating:   4  /  5
[Book review] Never Stop Walking: A Memoir of Finding Home Across the World by Christina Rickardsson
[Book Review] Daughters of the Dragon by William Andrews