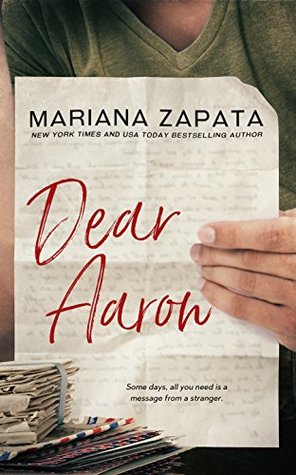 Dear Aaron by Mariana Zapata
Series: N/A
Genres: Romance, Chick Lit
Publication: June 10th 2017
Length: 485 pages
Format: E-Book
Source: Purchase
Synopsis: Ruby Santos knew exactly what she was getting herself into when she signed up to write a soldier overseas.
The guidelines were simple: one letter or email a week for the length of his or her deployment. Care packages were optional.
Been there, done that. She thought she knew what to expect.
What she didn't count on was falling in love with the guy.
Review: If you have been reading my blog for at least a little while, you know what I'm going to say.
I freaking love Mariana Zapata's books.
I've read 2 other books by the same author before and I confirm, again, there is a pattern here. While I noticed, I didn't care. The stories were all about finding love, decent guys and they all had a tiny chapter at the end as a bonus, time-travel style.
I read Dear Aaron in what must have been two days. Maybe I liked it so much because I read it right after my uni deadlines? Hm…
I loved Ruby. She does act like a baby sometimes so I can see how some readers will not like her, but she is smart and nice and cute. I also fell in love with her being a total geek. I mean, can all of the things I like be referenced by one character?! Apparently yes.
Between Ruby-the-queen-of-geeks and Aaron-the-decent-guy, Dear Aaron is a pleasant read. The book is initially written in a different format to the previous ones I read, mostly because of the angle of the story, but I liked that too.
I had some mixed feelings about finding out that Ruby is the same Ruby that I already knew about from From Lukov with Love. Somehow it made me uneasy at first, but then on second thought, I liked it too.
I'm impressed by Mariana Zapata's writing, this is the main thing I would say here. While the core of the story is pretty much the same as the other two I read, the setting of each of these was different and the characters varied. There are similarities, of course, but the characters are not clones of each other. I see a massive difference between Ruby and Jasmine for example.
Overall, if you like a nice young adult romance story, I recommend Dear Aaron. I also wrote about From Lukov with Love not so long ago, feel free to check the review out!
Have you read this or any other books by Mariana Zapata?
I welcome any book recommendations too!
Similar posts:
[Review] From Lukov with Love by Mariana Zapata
[Review] The Girl I Used To Know by Faith Hogan